by Stacey
July 29th, 2009
It's only the middle of my second day at Twinkle, and already I can tell this is going to be a great way to spend the rest of my summer.  As a fashion design major, watching designers at work –and helping them!—is an amazing experience.
Yesterday, despite being beyond nervous to start my new design internship, everyone was super welcoming to me as the new kid.  My tasks so far have been great, I was so surprised that I actually got to draw a bit for my first ever Twinkle assignment.  Later in the day I tried to wow with my Photoshop skills, but I wound up accidentally erasing my work, definitely not how I wanted to make a first impression!  Fortunately, day two has gone more smoothly and my nerves have dissipated, thanks to everyone's kindness.
I have to say, Twinkle provides the perfect environment for a summer internship, as its creative, friendly, and air conditioned!  I'm still learning the ropes but I look forward to getting a taste of what life is like in the (stylish) shoes of a designer.  Wish me luck!
Stacey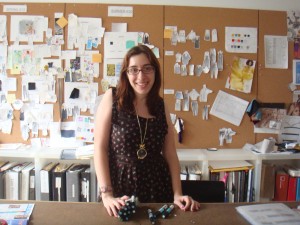 In front of the design wall