by Wenlan Chia
July 29th, 2009
Instead of my regular get away in March-April, this year I made a trip to Taipei and Tokyo in July. The trip bore multiple purposes - to visit my parents, to do my first ever trunk show in my hometown Taipei and to visit my Japan showroom for future development.  I wanted to mix business and pleasure. And it turned out to be more fruitful than I would ever expect!
Not only were all my missions accomplished, I got to meet high school friends whom I have not seen for years; some of them since graduation. It was almost comical to refresh in my mind how they were then and now - under their grown up faces, although all professionals and highly accomplished, they were exactly how I remember they were back in high school. Nothing is sweeter than seeing old friends!
My first trunk show in my hometown Taipei was also the first of the kind ever for the city. The turnout was surprisingly well. It was inspiring to see a whole different kind of Twinkle girl on the other side of the world. After Taipei, I headed to Japan.
My considerate partner in Japan took me to the local restaurants for fresh sushi and sashimi. I probably ordered everything from the counter. Last time I visited Japan was 8 years ago. The excitement and beauty of the country remains the same even after some noticeable changes. My favorite spot is still Yoku Moku's garden, where I can treat myself to 4 different kinds of tea and dessert while looking out to the beautiful L'eclaireur's garden.
There is always a terrible mental gap reconnecting to work after an overseas trip. Being away to somewhere else in the country is completely a different thing than being in another country. Coming back to work this time was not harder but more hopeful, especially as I was back to a completely new office. My wonderful Twinkle staff moved our office to the other side of the building while I was away. All I did on the first day back was walking around, just searching, and, upon discovering all the new file and furniture arrangements, was struck in awe by them.
Before my travel bugs went away, I made a trip to the new IKEA in Brooklyn. One thing led to another and I ended up buying food at the BEST market ever around the corner of IKEA - Fairway. I am in complete agreement with their slogan- "Like No Other Market". The fresh fish and cheese I got there were true testament to the phrase "cooking can be only as good as the ingredient"- please read this month's spotlight on Galen so you know what I'm talking about!
The whole Red Hook area of Brooklyn has got me completely hooked! I realized my old favorite spot in Manhattan- Chelsea Garden- has moved there! I got a chance once more to appreciate the exotic beautiful trees they have again. Just when I felt so surprisingly fulfilled by my unexpected little adventure, the most wonderful excitement topped it all -  it is a pottery studio called Liberty Sunset Garden Center, owned by a couple whom immigrated from Colombia many years ago.  The backyard of their lovely studio has the best view looking out toward Lady Liberty.
I look at the beautiful tree that I received from Gloria, the wife from the pottery studio, now standing behind my new chair.  And I cannot help but whisper to Gertrude Stein and to myself, Taiwan is my country and New York is my hometown.
Wenlan
Share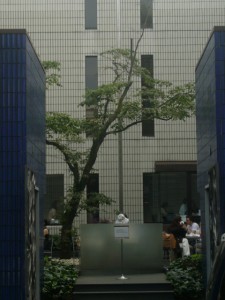 Yoku Moku in Minami-Aoyama, Tokyo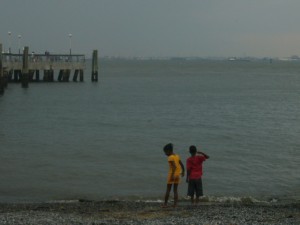 Looking out Hudson River from Red Hook, Brooklyn