by Lauren Carney
July 29th, 2009
I have been eating French toast for breakfast for years. My mom, naturally, makes the best French toast I have ever tasted; but part the "going away to college" growth process is learning to things yourself, in your own way, without any help. So while nothing beats French toast at home on my mom's snowman plates, I'd have to say that my variation is a pretty darn good substitute! Combining the zest of summer with a certain spice that only comes with fall, this breakfast is a perfect way to eat your way to autumn.
Ingredients
3 eggs
1/8 cup milk
¼ tsp. vanilla
¼ cup orange juice
4 ¼ tsp. cinnamon
6 tsp. (2 tbsp.) sugar
4 slices of potato bread
Pam Cooking Spray (also can use butter or margarine)
1) Whisk together egg, milk, vanilla, orange juice, and ¼ tsp. of cinnamon in medium bowl.
2) Lay one slice of bread in the bowl. Flip when liquid has coated that side of the bread; remove when liquid has coated the other. Do this for each slice.
3) Grease frying pan. Place on medium heat.
4) Lay two slices of bread in frying pan. Cook until side is deep brown; flip and repeat. Remove from heat and set aside.
5) Cook the remaining two slices in the same way. Remove from heat.
6) Sprinkle each slice with 1 tsp. cinnamon and 1 ½ tsp. sugar.
Serve with maple syrup, honey, or plain. Enjoy!
by Lauren C.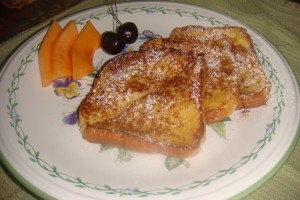 Orange Cinnamon Toast