by Lauren Carney
July 1st, 2009
Everyone knows that New York City becomes a little bit frenzied with fashion shows during Fashion Week in the Fall and Spring.  But what about the time in between?  New collections of clothes are coming out all the time – and, as I've learned, designers can't possibly wait for those two crazy times of year to debut them all.
So that's why Twinkle by Wenlan hosted a presentation last week to show off our brand new Holiday 2009/Resort 2010 collections.  To prepare, we sent out email invitations to stylists, fashion directors from magazines, and more.  We emptied our entire showroom of our Fall clothes/knits/Twinkle Living pillows and blankets, brought in the Holiday and Resort racks, rearranged the tables and jewelry, moved the mannequins from their perch by the window and changed their outfits (and I didn't drop any of the arms this time!).  We also booked two models, Roza and Dierdre, to wear all of the clothes throughout the afternoon.
Bright and early on the day of the presentation, a makeup artist, hairdresser and photographer arrived to do their own tasks: the models had to be ready for photos so our design team could create a "look book" – a collection of photos of each outfit we have to make it easier for magazines and stylists to see all of the clothes that Twinkle has to offer.  And our own preparation continued down to the very last second: even just 10 minutes before the presentation began, I was busy steaming all of the wrinkles out of the clothes while the other interns were in the office making sure the models' shoes, pantyhose, and accessories were all in order.
Making sure that we were completely ready to host the presentation was really hectic, but once we were out in the showroom greeting guests and in the office helping the models get changed, it was all worth it.  On the ride home that day, I was sleepy but really satisfied: working as an intern at Twinkle and helping to make all of this exciting stuff happen convinces me more and more each day that this busy, high-speed, crazy fashion industry is definitely where I'm meant to be!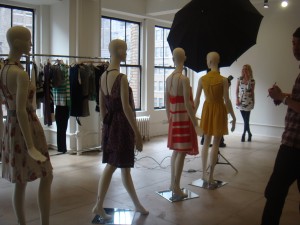 Twinkle Holiday/ Resort Presentation