by Ellie
July 1st, 2009
It's been a week and a day working at PR department at Twinkle. Incredibly, I feel like I've been here for a long time. Believe or not, there was no nervousness on my first day. Twinkle has such a super duper familiar atmosphere.
As a person who majored in law and Business Administration, it was never easy to get a chance working in the fashion field. I really appreciate that I can work with passionate fashion people and amazingly helpful with the other PR interns.
Working at Twinkle can't be bored! Because everyday different missions are waiting for us.  Like Stephanie told me on the other day, "PR is all about details". Yes, we have to be well organized as much as human being can. That's truly right. I'm slowly growing up with exciting Twinkle job and people in here.
So far, my first intern experience is pretty hilarious with Twinkle =)
Ellie S. Jo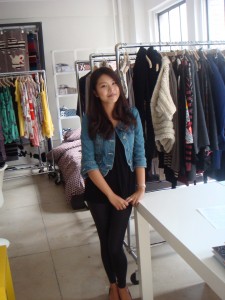 Ellie in Twinkle Showroom