by Lauren Carney
June 4th, 2009
Whenever I start my very first day at a new job, I always feel the same way: a little nauseous.  It's a dash of nerves and a ton of excitement that mix together and make me so ready to get to work…but that, at the same time, make me sort of want to turn around and forget about the whole thing.
But I'm always so glad I didn't, especially with my new internship with Twinkle by Wenlan's Public Relations team!  Believe it or not, my first day included going through racks of clothes (to get familiar with all of Twinkle's pieces, fabrics, and styles, and to help display some of Twinkle's new Holiday collection), reading magazines (to learn all about each magazine's personality in case they request clothes to use in an issue), playing with a dog (Milan, Wenlan's mischievous and very adorable French Bulldog), and going on Facebook (to brainstorm ideas for Twinkle by Wenlan's official Facebook page). Really, who wouldn't want this job?
While I know every day here won't always be filled with tasks like these, I am beyond thrilled to discover all that working for Twinkle will teach me this summer.  Even on my train ride home on my first day, I was already excited to go back!  There's so much to do and so much to learn…and I can't wait to get a little more experience every day.
Lauren Carney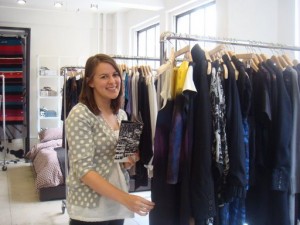 Lauren's First Day at Twinkle