by Wenlan Chia
June 4th, 2009
I started knitting late in my life. I approached it from a pure design angle. Later, especially after I published knitting books, I started seeing the cultural side of it. Its grass-root-meet-conceptual art character fascinates and surprises me every now and then.
I recently read about Sarah Hardacre, 31, from Salford, Manchester, who with helpers knitted a sweater for a bus! I can imagine the fun they had while making the "bus cover"!
This project reminds me of Isabel Berglund who knitted a room. There is gigantic mushroom, bee's wings and trees, all knitted in the knitted room. (http://www.isabelberglund.dk/) I want to visit this knitted wonderland when I visit Copenhagen, Denmark. Christien Meindertsma, an artist/designer from Netherlands who made "one sheep cardigan" where each cardigan is made with yarn from one sheep. (http://www.christienmeindertsma.com/) Each cardigan is numbered and tagged with the sheep's picture. The cardigan is not a product but has its own life here.
I looked at the first knitting project I devoted myself to- a yellow asymmetrical tunic dress mixed with clear vinyl tube and wool/polyester yarn, its alien existence is what attracted me to this business in the place. It's that little bit quirky and unreal approach to clothes that intrigues me. Obviously running a business is the most realistic thing. But I'm happy that my first creation is something from the similar sphere of Isabel's wonderland, a place we can all be child again.
Wenlan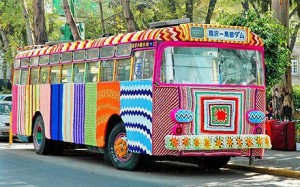 Knitted Bus