by Lauren
May 8th, 2009
YAY!!! The sample sale has arrived and with less then 24 hours until Twinkle opens it's  doors the show room is complete with comfy sweaters, silky blouses and the most magical prints ever.
All day the girls and I have been marking down garments, putting together racks and even picking out a few items for ourselves that we just couldn't resist without! Can you blame us?
Organizing was such a big part in this sample sale and after sorting out sizes and fabrics each rack was over flowing with some amazing stuff and bargains you cannot live without! And after every thing was done the girls and I couldn't wait to sit our buts down….. we were officially exhausted!!! But it turned out to be the most amazing sample sale ever!!!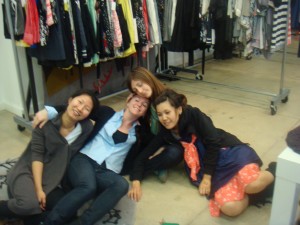 Lauren