by Wenlan Chia
June 23rd, 2008
How knitting promotes postmodern expression and how memory unwinds through handmade books
 
It's always surprising to see how art meets craft. Maybe it's because art these days has been isolated from the mass, while craft is hardly viewed as creative at all. The recent pieces I saw at MOMA are artistic, crafty, insightful and BEAUTIFUL!  Just how often do you hear people admiring contemporary art beautiful nowadays? Good art makes you think. These pieces certainly left me with the deepest thoughts.
The first surprise is the window design of MOMA's restaurant Modern. It is a blanket made of rainbow color of the chunkiest yarn. The stitch is random and bold. It's purely artistic expression. It reminds me of William De Kooning's painting, with a twist of organic movement. Yet, the neon light on the blanket makes this installation somewhat post-modern.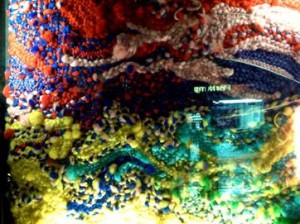 Restaurant Modern's installation tops, the art of window dressing
 
Mike Kelly's Untitled consists of found afghans and stuffed dolls. The artist claims, "The materials in this piece are not meant to suggest childhood comforts but were chosen instead of their formal elements- the afghans, for example, for their abstract patterns." The artist works in performance, music, books, and installations. I'm not familiar with his other works; but this piece, with its colors and patterns, speaks articulately for the vulnerable lands under war.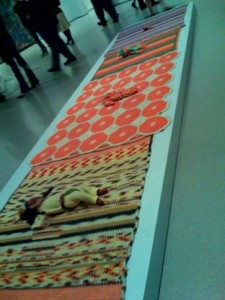 In the exhibition, Books, books, books, books, books, books and books, Brian Bellott collected sixty-six children's books of different sizes from different thrift shops and flea markets and "re-worked" them during "collage parties" with fellow artists. Every one of the books offers an independent wisdom and brings an artistic element to the collage. The exhibition reminded me of my art class back in grade school.  In elementary school, we were asked to make drawings for a booklet in art class. I made up my own story, so that I could continue on some rootless plot, while develop imaginary objects and characters every week. These books by American artist Brian Bellott speak to me in a familiar tone from my childhood memory. Viewers can instantly feel the intimacy.
 
"Handmade" has such a commercial meaning now that we forget the happiness that comes from making beautiful things with your own hands. Here, Brian Bellott had me cruise through pages of my personal memory – back when the commercial world was unknown –back when my imagination consumed me and my own art inspired me. Back then, creating was humble and shame-free.
 
  
All the books are displayed on a family heir loom table.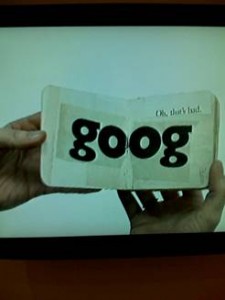 The content of each book is video taped and shown next to the table.