by Lauren
April 2nd, 2009
So… it's only been one week so far interning at Twinkle and I must say the experience, atmosphere and the Twinkle crew is quite amazing!
Of course I felt so nervous the morning of my first day, but by the end I didn't want to leave. Not only were everyone super helpful, but very welcoming and they definitely made it feel like home! So, on the first day my assignment was to create the "sample sale" poster and after a few tweaks and fixes on Photoshop I have to say with a deep breath "mission accomplished!"
And at the end of the day underneath the chaos, messy desks, and powerful inspiration boards Wenlan always successfully pulls together the feminine and whimsical clothing that is completely breathtaking. So, before I end my little entry I have to say I'm so lucky to learn from a true designer. Thanks for having me!!
By Lauren Orloff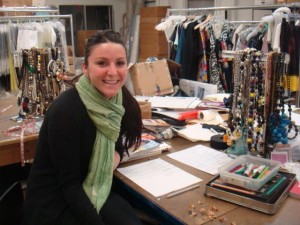 Lauren at design table