by Wenlan Chia
March 2nd, 2009
After twelve seasons at Bryant Park, I took Twinkle's Fall 2009 fashion show to an off site location for only the second time. I almost forgot how efficient and productive it is showing at the tents, and our show this season went through quite some dramatic moments. On the way home after the show was over, my mind flashed through a few unforgettable, and then felt-to-be some truly unfashionable moments in my career.
On top of the list is most people's favorite, which happened during my second year in business when I first sold my collection to the major department stores. The shipment was held at US Customs for inspection, a very common procedure, yet it nearly caused me to have a total breakdown - the shipment was very delayed. Sitting by myself in my office above a gallery on 26th Street, I made repeated phone calls between the custom brokage agent, the trucking company and the US Customs office to no avail. Eventually out of complete despair, I called Senator Hillary Clinton's office at 2PM, knowing that Barney's truck was on their way to pick up at 5PM. Ms. Clinton's assistant asked me to fax them all information and told me, "we have not received requests like this before but we will give it a try". Guess what? The shipment was released and made it to the pick up. I don't know if it's because the phone call worked or the shipment was miraculously released, yet it was definitely amazing that the Senator's office was so willing to help. I've told this story a few times and still hope they didn't go out of their way to handle a young designer's button and zipper problems.
My first fashion show was a three designer group show sponsored by Gen Art. It was the first time I ever did a show. The truck driver was late and showed up drunk. My collection only arrived at Bryant Park one hour before the show.  I had all my friends, plus the interns, be dressers. The biggest challenge for me was to tear off the first model's shoes quickly and put them on the last model – and with only 11 looks then, every fraction of a second counted. Tragedy was bound to happen. Girls went out not according to program and there was about 10 seconds when the runway was empty. I cried when the show was over, while guests came backstage to congratulate (or was it to console?) me. Later, I watched the show video and discovered one of the designers had a dog walked out with one of the models, and this dog went to bathroom on the runway. "How lucky I was to be the first designer to show", I told myself - you always have to look at the bright side in the fashion business.
I can regale you with so many tales of behind-the-scenes mishap.  There was a time when I realized a pair of gloves were missing only 45 minutes before the show. My design assistant rushed back to the studio to fetch them, returning only to find that the glove-less model was just about to step out onto the runway. The assistant, wanting to complete her mission, almost tackled the model to give her the gloves. She was fortunately stopped.  Once a model overslept and was escorted by her booker 15 minutes before the show, crying frantically with yesterday's hair still gelled. Another time the electricity shorted for five seconds during the show. I stood in the dark backstage and nearly fainted. Once the stereo was not working when we sent out the first look. And two shows ago, 15 pairs of shoes arrived from London only 35 minutes before the show.
The other day I met someone who used to work in the fashion industry for a well established designer. After many years, he finally decided he should be a real estate broker. I asked him why. He said that a few seasons ago, 48 hours before a fashion show, he, responsible for million dollar sales, was sent to Milan to pick up a belt at the airport to bring back for the show. He said to himself, something was wrong. I did not ask him, however sorely tempted, how he felt now with what is happening in the real estate market. Isn't something even more seriously wrong?!
I've always said that my clothes are for women who do not take fashion too seriously, who are up for an adventure, who have a sense of humor when it comes to fashion. These dramatic moments are flawed and unglamorous, yet make for some of the most wonderful memories.  I am already anticipating next season…
Wenlan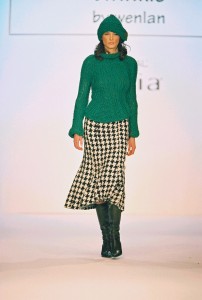 Twinkle's first runway show, fall 2003