by Juliette
March 2nd, 2009
When Wenlan told me that we would be using 35 models for our show, I thought to myself, "Ok, it sounds like a large number but I can make it work."   Little did I know what was ahead of me.   To hire 35 models, we had to see over 100+ models during our 3-day casting period.  Alright, so that part was not too bad.  We had beautiful girls come in and out of the office all day, took pictures of them, had them walk, and maybe try on a few looks.   What happened in the next couple of days after the model casting, however, was a whirlwind, to put it mildly.  With only literally days to go before the show, I had to negotiate with 7 different modeling agencies to get the exact models we wanted, while making sure that they could come in for a fitting (coordinating with the models' 10,000 castings), book a hair/makeup test run using a girl that was representative of our "look," all the while staying within a certain budget AND competing for them with DVF,Y3, and Herve Leger!
In those 3-4 days, I learned so much about how to speak the language of model bookers "Dahhling, let's drink champagne~ Kiss-Kiss!" to get what I wanted.  I also realized, once again, that having a sense of humor goes a long way.  One booker and I became instant best friends when we joked around during a phone call.  We were negotiating a deal when I said something like, "Well, since we are using some of your newer girls this season, I think you can give us some of your bigger girls."  She then said, "Wait, you don't mean "big" as in "fat" right?"  Then, we both started laughing uncontrollably when I said, "Yes, we will be using whales for our show."  I know it sounds mean but we were so stressed out and tired even the most ridiculous sounded funny.  After all the negotiations were over, she invited me to come to her agency's party at 1 Oak to celebrate with the models and bookers.  We saw some of our models there and they were so cute because they wanted pictures with us!  I thought it would be the other way around.  We also ran into a girl that we unbooked last minute and was wary of how she would react.  However, when she saw us she was super sweet and gave us a warm greeting.
Despite all the stress, last minute emergencies, and chaos, when I saw all the models lined up backstage before the show started, I had a moment to myself where I thought, "I did it!"  Then, my moment was broken by someone from La Force and Stevens yelling into the radio about editors arriving and having to start the show.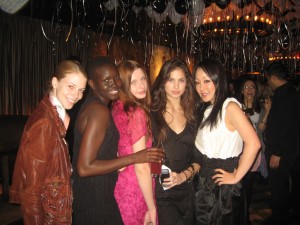 Juliette with her new friends at the party!