by Moon
March 2nd, 2009
Actually, I didn't even sleep well the day before the show. I was so excited. I got a Twinkle navy dress, a jacket and a necklace. They were my first Twinkle items. I loved them.
I should go there by 1:30pm. When I arrived at the car club, there are several classic cars. I imagined that 1950's adorable Twinkle modern girls with classic cars. It was cool.
Makeup professionals and models were coming, and they started to be busy. Everything was really fast and professional. Models were changed to be perfect for the fashion show.
My duty ; I was responsible for the drinks.
There were many kinds of drinks; Water, coffee, coke, champagne and white wine. Especially, wine and champagne needed to be chilled. We put them to the ice box. And then, we set up the tables. People started to come to see the show around 5pm. We opened wines. I like to open the wine. It always has good smell and sound to refresh my mind when it opens. After people got some drinks, they were ready to watch the fashion show.
The fashion show was started. People went to see the runway as close as possible. I also went to there, but there were so many people already.
I couldn't see it well. However, I could feel the energy of the show.
There were black and white movie at the background, and models appeared in my eyesight. I was so exhilarated. It was more than going to club on the Friday night. The show lasted about half an hour, and I came back to the drinks. I served leftover drinks to people after the show. I saw their faces, and all of them were smiling. They told me like that they really enjoyed the show.
It was first time to take part in the fashion show for me. It was sooo great! I never forget the experience.
Moon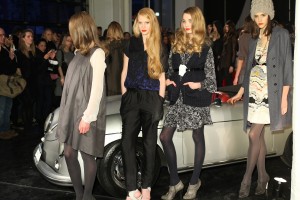 Models at the Show