by Wenlan Chia
June 23rd, 2008
The designer discusses her inspiration and process of creating the Holiday Jewelry collection.
 Twinkle Jewels was born with the goal to make costume jewelry that will go with our ready to wear collection. 3 years after the first twinkle necklace was created, Twinkle Jewels has evolved into an independent and complicated product line, without losing its quirky and sophisticated character.
In twinkle Jewels' holiday collection, I pictured a necklace to look like stars being tossed back into the sky- shiny yet slightly buried in the blue velvety night. It should compliment our holiday collection in an unexpected way- echoing a moody Impressionist print, while softening the sharp geometric lines. The Starry Night necklace was therefore created.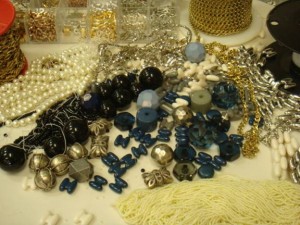 To start, we need matte and semi sparkle blue, black, grey and antique silver beads. But the finished look should be more modern instead of exotic.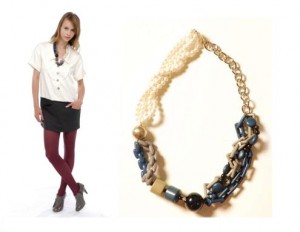 After a few fun attempts, I decided that this was it. It glistens like a starry night, yet it has a geometrical shape that works perfectly with the theme of the collection.