by Sayumi Namba
March 2nd, 2009
Until the last second the show starts, the back stage was very very busy and was under tremendous pressure.
Its peak started 4 days before the show, non stop until the last moment.
Fitting 36 girls in 4 days… no time for anything but giving girls outfits and photograph them.
The last thing I concern was how I looked and what to eat.
The great consequences came after. Looking 36 girls standing wearing Twinkle and neon orange lip stick, was just glamorous and absolutely spectacular.
I was walking around and guess what I found… pop corn and coke! Having not eating properly for last 4 days, I ate so much I couldn't even remember. Anyone couldn't get pop corn that day, don't blame on me. I just followed the natural human need.
Sayumi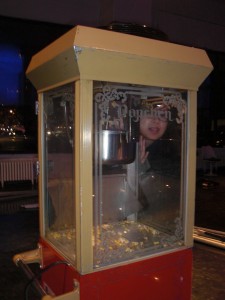 Sayumi with the empty popcorn cart