by Annalise
March 2nd, 2009
I was so excited when I was asked to be an intern at Twinkle. I love the fun, easy, and wearable pieces they create; they just make fashion fun.
When I started in January it was right before fashion week so the office was a buzz with preparation. I've worked in other studios, but never for a company that presented during fashion week. I couldn't believe the immense amount of work that goes into a fashion show.
I had the opportunity to help with the chunky knits that Twinkle is famous for. I hand knit all the hats that were in the fashion presentation. It was a lot of work that involved knitting, de-knitting, and re-knitting some of the hats until they were the correct length and pattern. I've always loved hand knitting and am so excited that I got see my hand work in a fashion show. I worked right up to the last minute on the hats and my work paid off when I saw the images from the show on WWD.com.
I'm truly enjoying the office atmosphere here at Twinkle and can't wait to see what the following months hold for me here!
Annalise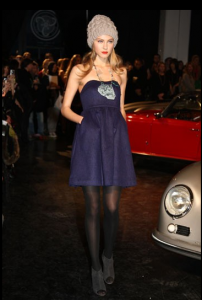 Model with Twinkle's Dune Basket Case Hat made by Annalise