by Wenlan Chia
January 28th, 2009
Bernard and I traveled to D.C. to attend the inauguration. Staying in the bitter cold for 5 hours, I ruminated on the recent global turmoil, although my thoughts ended with excitement, joy and hope.
This country is so different from 2 years ago when Obama started his campaign. Living in this special time makes me think of KU and KO from I Ching, Book of Changes. I sometimes try to see change through this old Chinese philosophical point of view. I Ching offers me an abstract view of a complicated situation. Sometimes I entertain myself with the surprise inspired by it. Often it gives me optimism during difficult times.
KU, in I Ching, is a stage when things are too progressively played and it becomes spoiled. When you find a worm in an apple, you know there will be more. KU represents decay that is not naturally so, but caused by letting wrong doing go uncorrected and therefore harming justice. It implies guilt and requires removal of the cause. KU very much paints the scene of the financial industry melt down. It forces us to see ourselves with absolute honesty so we can figure out how to repair the wounds.
The excitement of people from all over the world seeing the changes of our country is so overwhelmingly surprising. It's then I truly realize how much people want this change. The change is often described as a new movement that enlightens and awakes us. It makes me think of KO. In I Ching, its original sense is a molting process of animal's pelt. It's a process of a dramatical change yet not so revolutionary that it will change the core or the spirit of the body. The transformation is called for its direst necessity and comes with no regret. It also indicates a beginning of a new era.
Some friends ask me to tell magical oracles when they know I study I Ching. That always makes me laugh. 3000 years ago, I Ching was sometimes used to interpret the future. The symbols of lines do have a mysterious indication. For those who are interested in learning this ancient world-view, I recommend Richard Wilhelm's I Ching, published by Princeton University Press.
Wenlan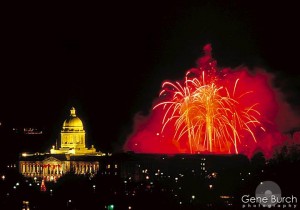 photo courtesy of Gene Burch, geneburch.com