by Wenlan Chia
December 19th, 2008
People who are familiar with my knitting books or attend my knitting workshops are usually curious at my choice of casting on method.  Unless a trim will be added later on to the base row, I almost make no exception but to do cable casting on. "Why?" People ask.
Besides the obvious advantage - it is "steady", has a thick, loop-based edge, provides enough stretch - I rather like the resemblance to that of a sweater made on a knitting machine.
"Why do you like hand knits to look machinery?" Hand knitters almost scream.
That's the moment I remember why I design the clothes I do. I love machine-made, affordable clothes to have artsy, crafty details and handmade clothes to have a unified "factory" look.
Before I started my own line, my favorite pastime was shopping at flea markets and second hand stores.  My treasured finds include a cream Chanel suit from 1950, a 40 year-old black Balenciaga dress, and an Yves Saint Laurent shirt dress.  I take to examining the garment inside out and truly appreciate the handiwork and attention to details.  I also have accumulated tons of no name vintage finds with holes in the lining, broken zippers, and several skirts that feel un-hemmed.  I like these vibrant clothes.  I find common sense intelligence and vivid creativity in these label-less middle class vintage.  They remind me of all these beautiful clothes my mom and her friends used to wear when I was young.  They also remind me of how most of my friends live their lives - they work, support themselves, and they love fashion.
When I visit the factory where Twinkle garments are produced, I am fascinated by how my chunky sweaters are made - from woolly hair fiber being combed and processed, then dyed and spun into yarn ready for knitting a sweater.  I enjoy this behind-the-scenes part as much as when I am creating a new design in my studio or presenting a new collection on the runway. They all have a similar magic quality- to make things out of thin air.
So for someone like me, to find out there is a way to cast on so a one by one rib will look completely "machinery" without a loop of the base row, I'm positively thrilled!  Exactly how will that be accomplished?  Will continue in next month's Knitting 101…!
Wenlan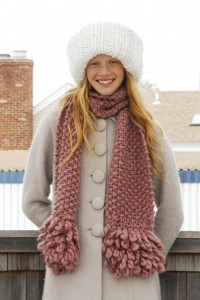 Snowcap Hat and Peony Scarf