by Christine
November 25th, 2008
By Christine
Every year I dream of sending out the perfect set of holiday greeting cards.  They are beautifully written and personalized to their recipient.  This year I envision one of my boyfriend and myself with our cute new cat, in our even cuter new apartment.  Of course, the likelihood of this being executed is slim to none - I freely admit that.  I spend much of the early weeks of December in denial that Christmas and all that it ensues is actually taking place, and by the time I've accepted its imminent arrival, alas, it is too late for Christmas Cards.  But while the thought is fresh and inspired, I took a look at some ideas for making up some unique and stylish cards.  Here are a few of my favorites:
1)Â Â Â Â Â Â  www.moo.com
2)Â Â Â Â Â Â  www.familylabels.com - Cute personalized cartoon labels
3)       www.doodlekins.com  Personalized labels.
4)       www.nightowlpapergoods.com – Earth-friendly greeting cards.
5)       www.botanicalpaperworkds.com – Plantable Xmas cards
6)Â Â Â Â Â Â  www.luxepaperie.com
7)       www.thestationerystudio.com – Personalized cards, stickers, and more.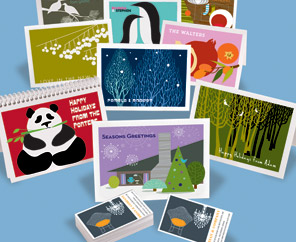 Holiday Cards