by Wenlan Chia
November 25th, 2008
By Wenlan
This winter is said to be a big chill. What's warmer than making a pair of knitted gloves as a gift?  I rarely wear gloves as going out often means carrying a bag, a lap top, and a dog.  I need my fingers to be free.  So fingerless gloves are the best for keeping me warm…and cool.
These gloves are made of chunky yarn so they are very fast to knit up.  I designed them for my collection 4 years ago and had them reissued this fall.  They are also one of the most popular patterns in Twinkle's Big City Knits as well.  I named them Flying Gloves as they went so well with a hat design I named Pilot Hat in the book.
You can get more creative by doing it in color block.  Making them in half black and half white is so quirky.  You can also do a few more rows of the wrist opening to go up over your arm. Wearing a pair of longer, chunky fingerless gloves with a ¾ sleeve coat presents such a modern feel.  And for an edgy look, make those gloves extra long and wear them all ruched down at wrist with a floral dress.
I love them just small and short.  I throw them in my bag with my sunglasses.  Sometimes when I am on my way to work, and the sun comes up really warm, I will wear my aviator sunglasses, oversized chunky sweater, laced up biker boots, ragged studded bag, and this pair of Flying Gloves.  I feel like the coolest New Yorker on her way to work, especially on those really good hair mornings…until, of course, my dog suddenly poops and I am abruptly aware of being a regular working woman in New York.
Wenlan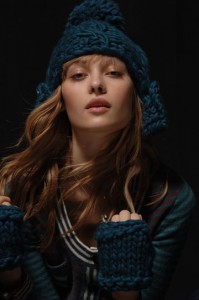 Flying Gloves and Pilot Hat