by Wenlan Chia
October 24th, 2008
By Wenlan
The hot topic recently among my friends, besides the presidential election, is fitness.  We all should have talked about this some time ago, before we had to admit we will no longer fit into our size 2 dresses.  After having countless cocktails and glasses of wine, I found I could hardly zip up a dress from a year ago.  But I was optimistic.  I told myself, "What do you know? It does not fit today but it might fit tomorrow."
Yet it took me many tomorrows to settle to the fact that I needed to start placing personal orders on my own collection as I couldn't fit into the size 2 samples anymore.  I am now a size 4.  I remember when I first started the business and really struggled trying to make all my samples size 0 as that was the size that fitted me perfectly.  I thought if the business did not work out and I did not shop for three years then I would at least have the collection for myself and make the investment back.
People who are always on a diet have no idea how difficult it is for a used-to-be thin person to be on diet.  Thin, and often too skinny, for almost my whole life, I have formed no discipline on food intake.  I ate whatever and whenever I wanted and old habits die hard.  It is hard to train the very spoiled stomach to be a healthy organ.
On the other hand, gaining weight has a few advantages.  I start to feel that exercise is a necessity, not just to be healthy and toned, but to stay in a size 4- I do not want to lose all my old clothes.  My husband suggested that gaining weight may not be a bad thing as I can design for real women, which might help my business to the next level.
Almost all my friends gained weight over the years and we all have to start working out and watching our diets.  The most successful ones are those who are single, although we have the same trainer.  I do not like the gym.  My trainer has to be very patient, reminding me to attend every session.  While I'm trying to get out of sessions, I also think hard for an alternative.  It struck me that many years ago I used to be on a swimming team and I won karate competitions as well. And then I realized that I have not done any sport or any form of exercise for a very very long time.  Training out of necessity does not work like doing sport out of love.
Beautiful women of my age, like Nicole Kidman or Halle Berry- I will take their bodies in a minute, but they do not inspire me.  Olympic swimmer Dana Torres does. I started going to the gym again. The other day I watched Oprah and saw feminist and political activist Gloria Steinem, 74 years old now.  I emailed her picture to my mom and told her Ms. Steinem's story. My mom started jogging the next day.  Inspiration goes a long way.
Share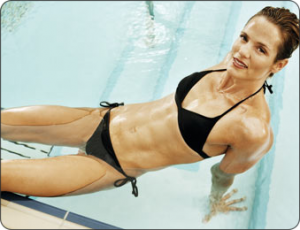 Dana Torres