by Wenlan Chia
October 24th, 2008
By Wenlan
It is rather difficult trying to be objective when talking about my dog Milan.  She is the cutest and the sweetest.  If you don't believe it, check out her picture - the innocent eyes, the baby face, the tear drop markings on her butt, the bat ears and pink belly.  Having a big heart, she is very affectionate to any animal and every person.  Milan has amazing energy when going out on a walk or playing indoors.  Yet the best thing is she never asks to go out on a weekend morning when I like to stay in bed for a bit longer.
This little creature inspires some of the very popular twinkle designs, such as Milan and Her Rubble Ball necklace, Milan's Imaginary Friend mat, Milan Mirror throw pillow, and Milan intarsia sweater.  A camera darling in my fashion show back stage, she actually RAN the runway once and her picture opens my first knitting book.  But, nothing compares to the little, silly joys that she brings to the twinkle office everyday.
Yet I have to admit she is not the brightest.  She is 4 years old and the only command she knows is "sit" and she does not always follow it.  I do not try to teach her any tricks.  I told myself I just want her to be who she is and a happy dog.  The truth is I do not have the patience to wait for her to learn another trick.
Her instinct for pinpointing human food however is remarkably sharp.  She was once found hanging around the hot dog shop at the street corner by our building security guard.  Still now I have no clue how she made it out our studio, down 17 flights of stairs, and through the lobby to the shop.  The other day we heard Leon scream "MY GOD" in the showroom and discovered that Milan ate a whole box of macaroons that we prepared for editors in our press presentation.  Still now I cannot figure out how she knocked the box down from the table and how she managed to finish them all so quickly.  Well, not all as Yuki managed to grab one from Milan for herself.  According to Joanna's calculations, Milan had at least 10,000 calories intake.  As much as we are all watching our diet, everyone mourned deeply over the left over macaroon pieces on our cream rug and spent the day pointing at Milan and yelling "BAD".  It was a split-second in which we loved the macaroons over her.  Other times, Milan takes immense delight chewing buttons, hangers, beads, yarn swatches, as well as her favorite push pins; we enjoy her company then with great tolerance.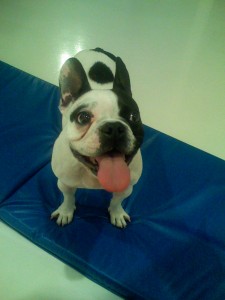 Milan in a Nutshell