by Wenlan Chia
October 2nd, 2008
By Wenlan
Last week, I traveled to Austin and Dallas on a book and yarn tour. As soon as I returned to New York, I went to another knitting event Stitch'N Pitch held at a Mets game. I have been asked during this Marathon knitting week the same questions over and over that I have been asked often before: "Do you still knit?"
The truth is that I indeed do not knit even half as much as I did compared to the first 1 or 2 years when I started the business. However, after I finished the week's knitting journey, I started knitting again. As a matter of fact, I have found no better way to put my mind at peace than with knitting.
The current political and financial turmoil is harder to endure than any stress filled days I encountered in my professional and personal life. I'm anxious, unsettled, and neurotic these days. Some of my friends exercise to release the tension. I find the little free time I have is hard to fill without feeling empty and lost. I used to be able to enjoy a good movie, cook, and read. But at this unusual time, I found tranquility only in knitting.
Knitting for me used to be a way of creating. I like to design sweaters, especially hand knits in an unconventional structure. I found it hard to follow other people's patterns as I always make my own pattern according to my design. I was only interested in making new designs and new patterns. I have not experienced the therapeutic part of what knitting can do until Wall Street went down and the Presidential debate took place.
I have been making the Aspen hat from my first book- Twinkle's Big City Knits. I think it is the perfect Christmas gift and plan on making one hat a day. Except for a few days where I might be too excited, laugh too much over Tina Fey, or have too much to drink that I might skip my therapy, I should be able to finish 35 some hats by Nov 4th.  That's quite some special gifts for 35 of my dearest friends and family.
My husband takes on jogging these days, yet he still gets agitated as soon as CNN starts. I suggest he take on knitting instead. You might see him in my first knitting workshops.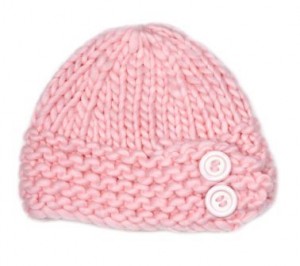 Aspen Hat in Baby Pink