by Emma
October 1st, 2008
After the Twinkle show ended and we were all packed up, a few of the other interns and I thought we would try to talk our way into some other shows, with our all important backstage passes still swinging round our necks from  how hard could it be, right?
After an hour of hanging around by the 'standing room only' line, trying to come up with good excuses to why we weren't on the 'list', being bluntly refused to two shows, and generally getting in everyone's way, we admitted defeat. Tired and starving, with tails between our legs we wandered off to find brunch and then catch up on sleep.
Oh well there's always next year!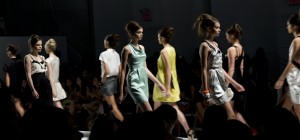 the spring 2009 strut