by Tiffany
August 22nd, 2008
Being an avid knitter, I am always on the lookout for interesting patterns as well as new approaches to knitting.  I can safely say I was knitting Twinkle patterns before I knew they were Twinkle since I was drawn to the way the signature sweaters featured delicate motifs in bulky yarn.  Big yarn is simply irresistible (who has not molested a big ball of wool yet?) and being able to knit form-fitting, flattering pieces sealed the deal for me. 
It was only two summers ago, when I read a feature on Wenlan in Interweave Knits, did I go searching for her patterns and discovered that I already knitted plenty of her sweaters.  When I scored an internship in her studio, I began learning more about the craft and some of the artists and designers that make knitting so luxurious. 
I learned about artist Sandra Backlund while still at NYU.  I had knitted some bolero sweaters for a student-run fashion show and pretty soon I got all sorts of tips about the world of knitwear.  Sandra Backlund is an innovative knitwear designer and creates awe-inspiring pieces from her studio in Stockholm, Sweden.  She takes her main inspiration from the human body and each season, endeavors to highlight the female silhouette with novel forms and shapes.  Sandra is very open-ended about her craft and her experimenting leads to fresh looks, but with a timeless character.
I truly appreciate designers like Wenlan - she makes knitting so approachable…but there is something VERY appealing about knitwear that you can't have.  You can't buy Sandra's work, nor find a pattern online that shows you how to knit one of her sweaters for yourself.  You simply must spend a good portion of your life ogling at her work in a magazine spread.  As a knitter, I get extremely excited when I see a sweater that I have to stop to think about. 
Where do you think this piece from Sandra's "In No Time" collection even begins?  It's like a long, twisting ribbon with no beginning or end- what a delightful puzzle!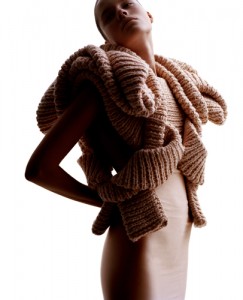 While Sandra does present a collection each season, she does not focus on marketability.  Her stuff is handmade and more artistic than commercial. This fluffy yet rigid, white concoction looks spectacular, but I don't suppose I could pull it off even in New York City!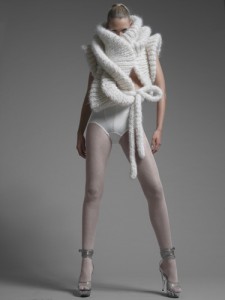 Such artistry is what I retreat to when I need a kick of inspiration.  When I stare at my yarn stash, pondering what project to embark on, I take a look at stylish knits by Sandra, Wenlan, and even London designer Giles Deacon, known for his broomstick-handle knitted pieces.  Knitting is such a free form of expression that you simply cannot be retrained by a pattern. While I cannot say it is easy to take up a pair of needles and knit an original work of art, there is a plethora of knitting creativity all over the world such that knitting isn't reserved for one group of individuals.  Anyone can knit and creative expression is limitless!
Make sure to check out Sandra's current collection, "Last Breath Bruises", in the August 2008 issue of Soma magazine.  Her website is at http://www.sandrabacklund.com.