by Wenlan Chia
August 14th, 2008
At brunch, I met a lady, who couldn't stop talking about the free hot chocolate she and her boyfriend enjoyed at a Target promotion. She went on for at least 30 minutes about this hot chocolate. Knowing I couldn't escape this one-way, "I'm in hell" conversation, I slowly envisioned pulling my hair out piece-by-piece. My life is too short to be trapped in this boring conversation, I thought. Yeah, wouldn't life be too long for ordinary moment to run one's life?
A few nights later, I was having dinner with a very witty friend, who began talking about a birthday party for her 60-year-old boss. We discussed the marvelous accomplishments of her boss, explaining that not long before her birthday, she was promoted to lead a very successful department in the company. Not to mention, her boss hit a landmark in her career, long after what was considered the traditional primetime. As she recounted such events, she let out a sudden cry, "Life is not short! Life is long!"  I laughed.
As I watched The Diving Bell and the Butterfly, I was suddenly reminded of my witty friend's comment.
The Diving Bell and the Butterfly is the story of Jean Dominique Bauby, a renowned editor at French Elle Magazine, after he suffered a stroke at age 29. With one blinking eye and the help of a writing assistant, he completed a biography. The number of wonderful things he created and imagined, in spite of all that he had lost after his stroke, is unbelievable. He realized that, despite the accident and his misfortune, he could enjoy life to its fullest through sheer imagination: a life that was perhaps richer than the one he could have led with his full health.
My favorite scene is the one in which he and his father – the two men with their strong minds, were trapped in withering bodies. Also, the contrast in relationships between him, his ex-wife and current girlfriend serves as a true testimony to the film's originality and personal account. His ex-wife and girlfriend represent two very different passion of love. After his accident, his ex-wife forgave him and offered to take care of him, while his girlfriend lacked the courage to see him. While the girlfriend's lack of support and refusal to see him might seem cruel and distant to some, I felt empathic to her pain and fear.
The film has also turned me into a fan of Julian Schnabel, the film's director — post his famous "Plate Paintings" from the 80s. His raw photography enlivened an intuitive and spontaneous journey in front of my eyes, deep and beautiful like Jean Dominique's own life. The film's "handmade," ethereal feeling is definitely something from a painter's hand.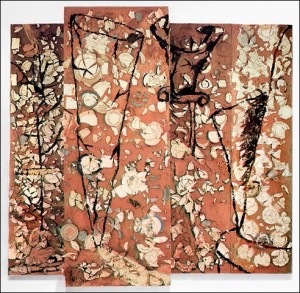 One of Julian Schnabel's famous "Plate Paintings", The Patients and the Doctors.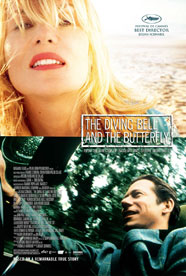 Poster of The Diving Bell & the Butterfly