by Leon Yuan
July 14th, 2008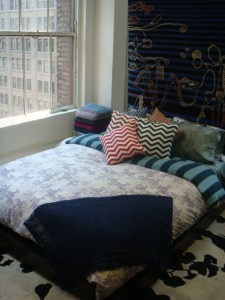 The Day Dream Rug hangs as a backdrop in this picture. Instead of hanging a large oil painting, we thought that a rug might add more texture and warmth to a bedroom.
The Dew dove/plum duvet, Shanghai night standard pillowcase, and Dew lavender standard pillowcase have very intricate patterns. They fit together perfectly to create a Japanese enhanced room, which is dipped in femininity. On the bottom corner of the bed, The Lego and Zig-Zag throw pillows, the Stripe knitted throw, and the Chunky Knit Throw, introduce a modern and chic look.
The throws and throws pillows are effortlessly placed on the bed to make people, who find decorating to be a challenge, fall in love with this simplistic design. A simple tip: It's always wise to stack a few throws on the nightstand to add some last-minute color to the room.