by Yuki Sekiya
June 24th, 2008
Yuki Sekiya - Graphic Designer
Don't believe everything you see… Contrary to the myth, not everyone in the fashion world starves themselves. Here, at Twinkle, food is a BIG deal.
Unarguably, lunch time is the happiest time for me. Yet, every day I am confronted with the same question, "Where do I go for lunch?" Since our location is 38 and 8th, it's very hard for us to find nice place to eat. At the same time, there are a lot of different places to eat. Therefore, my colleagues and I have narrowed it down to the following spots:
Amici: The grilled cheese and fries are very good.
Starbucks: Gotta have my fix!
Dunkin Donuts: Why do they call it box of Joe?
NYC fried chicken: The greasy fingers are a minus
Village 38: Same as Amici's but the line is shorter.
Chef Yu: Asian fusion.
Pret a manager: When I want to treat myself to a fancy picnic-style lunch.
Zaiya: Only for those special days because it's so far.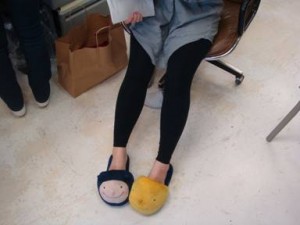 Above: Yuki refuses to take a picture. But, aren't her slippers so cute?