by Joanna Song
June 24th, 2008
Joanna Song - Assistant Designer
Twinkle Staff picks:
Favorite Artist of the moment : Tegan and Sara
Favorite Quicky Lunch Spot: Pret a Manager
Favorite office snack: M & M's plain
Favorite carrier and mailman - DAVE from UPS
Favorite magazine: Vogue (US, Italy)
Best way to unwind after a long days work: Sweat it out at Bikram NYC
Best part of the Twinkle Studio: The AMAZING Staff and hard working interns, Milan -the office French bull dog, and of course the endless supply of snacks that inundate our office.
Most Memorable Moment: The sheer joy of finishing a successful fashion show-more specifically Fall 2008's show after consecutive late nights and small bumps along the way it turned out amazing - felt like giving BIRTH.
Most Stressful Moment: Fall 2008 show prep - waiting nervously for our show shoes to arrive and making backup shoes and embellishing them through the late night - our multitalented design team created a customized TWINKLE shoe*. Just call us GEPETTO.
Looking forward to: Having the clothes produced so we can finally wear them. Another amazing season and show and of course the infamously enjoyable Twinkle After-show party.
Most thankful for: Hardworking and always enjoyable Twinkle Interns that have become like family.
*Not available anywhere else but Twinkle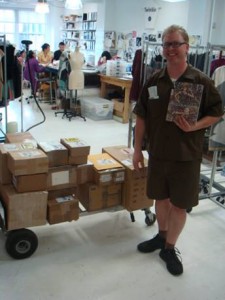 Dave with a copy of Italian Vogue