by Karina Peng
June 24th, 2008
Karina Peng - Operations Manager
 As my due date was approaching, Wenlan kindly decided to throw me a surprise party before my maternity leave. So she and my co-workers secretly schemed behind my back and also teamed up with my husband Jamie to make it absolutely perfect.
 A couple days before the event, I randomly picked phone call from The Merchant,  restaurant in the city, asking for Leon who works at our pr dept.
"He's not here, can I take a message?" I responded,
Sure! I'm calling to confirm the reservation for his party for 15 people."
 As I quickly took down the information, I felt that there was something strange going on, since I wasn't aware of any upcoming Twinkle events.
After a couple days had passed, in the end of the day neared, however, people started to leave the office around the same time, a bit earlier than usual…and that is when I began to notice some odd behaviors.
 First, Leon fled the office mentioning that he has to take off for school and Ms. Huang, our sample maker, who is NOT a 45 year student ran after him asking whether she could go along with him. (I thought that was weird but still had no clue as to what was going on). Then, two more of my colleagues on the design team, Lily and Joanna, walked out without even saying goodbye. Finally, Wenlan was the last one to leave (it was only around 7pm, which is rather early for her). As she packed her stuff and prepared to leave, she said:
"Go home early, Karina. Don't work too hard." At this point, I knew something was wrong….Wenlan is always the last to leave!
 A short while later, Jamie called and asked if I was ready to go grab a bite to eat. Once I got downstairs and into the car, Jamie looked at me and said:
"My friend told me there's a restaurant downtown that has great burgers, do you want to go?"
 "Sure! What's the name of the place?" I replied
 "The Merchant restaurant…."
 Jamie, completely caught off guard, we just both burst into laughter.
 At the end of the day, although it was not the "surprise" party they had originally planned, it was still a fabulous party and the best send-off I could've every asked for.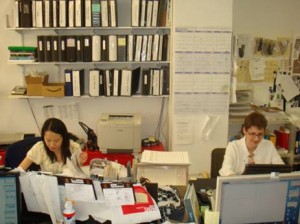 2 months after the party, I'm back to work, joined by my new assistant Eva at twinkle.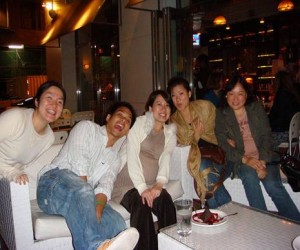 Yuki, Jamie (my husband), Me, Joanna and Ms. Huang