by Lily
June 24th, 2008
Lily Tran, design assistant
I still haven't decided if I should blame it on the tights or the dye. In all honesty, it could've been me. All I have to say was that this project was like a love-hate relationship. I cared for it so much, yet we had some really tough times together. When you think of dying tights, you would think that it would take a little one-or-two dunks into the bucket, then a rinse off. And then, BAM! You have these awesome tights.
Unfortunately, I only encountered this feeling of contentment for about, I would say, 36% of the time. Scratch that, probably more like 31%. After all, there was that time I burned a large hole in the tights. Anyway, let's just focus on the positive for now.
Dyeing is not very difficult. It's all about patience and grasping the technique. I think the tights have so much to do with how it will absorb the dye and how it reacts once it is dry. The opaque tights were much harder to get the color saturated and even harder to create an ombre effect, since they usually ended up being blotchy or came out looking like a flesh eating disease had attacked your legs.
The sheer tights on the other hand were much easier to work with because the colors soaked more easily. But, even then, you still have to be extra careful, so that it won't turn dark too quickly. Instead, get a moderately expensive pair of tights because the cheaper ones from the drug stores or the super fancy ones are made from a fiber that doesn't absorb the dye as well.
The use of several different vats is a great resource. If I wanted blue-to-black tights, I would have 4 different buckets: black, navy blue, royal blue and light blue (made by diluting it with water). Also, after you heat up the water once or twice, I would suggest making a new vat of dye. You can save the old colored water for the over dyeing part. Once you dry off the tights and they still looked blotchy, I would save them by over-dyeing.
Heat also plays a significant factor in the equation: the hotter the water, the faster it dyes. Even though the tights come out a shade darker, don't worry! All the levels of color came together and evenly transitioned.
I would highly recommend dying them with the lighter dye first; then, dye them a second time with the darker shade. Once you've gone through the dying process the first time, ensure that all the excess dye has come out by gently running it through water before dyeing it again. Just don't wring it out because you'll end up getting a very tie-dye look, which is totally unfashionable and 80s.
Through it all, the most crucial thing to remember is to have positive outlook on the whole process, so that your tights will prevail a chic and fantastic look! With all honesty, Wenlan, this artsy painterly moody umbre tights is the worst best idea ever!!!
Materials: large buckets, bottle of RIT dye (preferably one of a darker and lighter shade)
Tips:
+ Microwaving the dye is out of the question. Instead, avoid laziness and heat up the RIT dye up on a conventional stove. It'll save you heartache and a headache. Plus, radiation is bad for you!
+ Unless you want to end up with Smurf hands, remember to wear two pairs of latex gloves or one pair of heavy-duty rubber ones
+ Invest in a good book and a comfy chair because it will take you longer than you imagine for you to get your perfect pair. But, don't become fazed!
+ Work with a friend, so that she/he can spice things up when you're bored.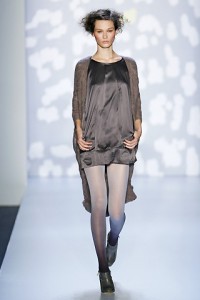 Above: The Umbre tights in Twinkle by Wenlan Fall 08' Show