by Wenlan Chia
June 24th, 2008
I love sharing my knitting tales. My favorite is when I lost my knitting needle while I was knitting. That's part of the reason why I started knitting with chunky yarn – it can't be too difficult to find a thick #19 needle under the sofa.
This tale travels through my first trip to London and has to do with getting knitting inspiration from Notting Hill- the home of Portobello Road Market. I saw sheep in Stonehenge. And in  the Portobello market, I saw a woman spinning yarn from the just shredded sheep fur with an antique spinning machine. She wanted to demonstrate that the machine was still good. The final product was a yarn unevenly spun and ridiculously thick. I thought to myself, "What designs could best play with the yarn?"
A few years ago, I had bought a pair of extra thick, hot pink #36 plastic needles. A needle that size is normally used to knit an open weave design and to create airy lightweight fabric especially with mohair yarn. Miraculously though, it served the perfect match to this super chunky yarn as well.
Somehow, chunky yarn, extra big needles, and fast knitting all came together on this trip.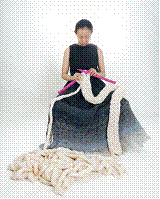 I later found some luxurious version of my Notting Hill inspiration using silk/wool blend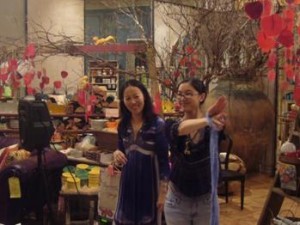 And later, this thick wool fiber yarn has been a perfect tool for when I host knitting class.