Wednesday, October 1st, 2008
Fashion Week at Bryant Park was amazing. The atmosphere was almost overwhelming. Most of the models were running around back and forth from hair to makeup, while some of them were creeping around the exits trying to escape. Naturally, I didn't want any of them to get away, so I was stationed near one of the exits watching for any runaway models. I wasn't there very long when this 14 year-old boy comes walking in with his parents.  "What is this kid doing here? He doesn't belong back here…" I thought to myself. It seemed really odd that anyone under the age of 18 would be backstage at a fashion show, but he was dressed really nicely, so I figured he must be tagging along with one of his parents. (Plus, he arrived at like 7:30 am. What 14 year-old wants to get up that early for a fashion show?) He disappeared after a while and I went about the morning helping everyone with various tasks from stapling brochures to positioning the gift bags with exact precision. What a morning. After the show was over, I ran to Grand Central and caught an 11:30 train back to Purchase College and made it just in time for my 12:30 class.
Later that night, I was surfing the internet, researching the buzz around Twinkle's fashion show and as it turns out, the 14 year old that was roaming around backstage was actually Mark Indelicato from ABC's Ugly Betty. Who would have guessed?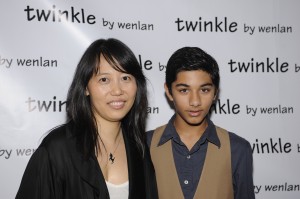 Ugly Betty Star is Undercover Backstage