Thursday, October 22nd, 2009
This month's Twinkle Spotlight is on one of my favorite artists, also considered one of the finest artists of our time, Tehching Hsieh.
I had heard of Tehching Hsieh when I was a sixth grader in Taiwan. His unique art takes shape in year long performances, synchronizing life with art: in Cage Piece, Hsieh explores a year of solitary confinement while locked in a cage; Outdoor Piece portrays life without shelter; and Jump Piece resulted in two broken ankles. Despite the fact that I viewed his art footage years later, the passion and mystery with which he creates reaches and inspires me on infinite levels.
I am very honored to have him answer a few questions to share with you all.
Wenlan: What was on your mind when you decided to jump boat and stay in New York?
Tehching: I was 23 years old, and at that time it was not easy for Taiwanese to get visas to come to America. It was very clear that I had to take action, to enter the USA illegally, to New York - the art center of the world - to progress my art. I was trained as a sailor for 3 months, worked on an oil tanker for 2 months, jumped ship in Philadelphia on July 13, 1974, and lived in New York as an illegal immigrant until I was granted amnesty in 1988.
W: What would you do if you were not an artist and why?
T: I decided to be an artist at about 17-18 years old and started my self-revolution then; the ordeal I experienced in my life didn't change my path. I couldn't think what I could do except for art. Now I don't do art any more; I'm doing life and passing time; it is the same with or without the form of art. What I have is freethinking.
W: Which artist do you admire the most?
T: Sisyphus.
W: What do you think about the recent trend of the collaborative between artist and designer?
T: Interdisciplinary collaboration is interesting, but I cannot talk about something I don't know much about.
W: What has recently inspired you?
T: I think my time after 2000 as extra time in my life; in this way I can think freely. I like to do things that are motivated by my pondering life and can respond to the questions I ask myself.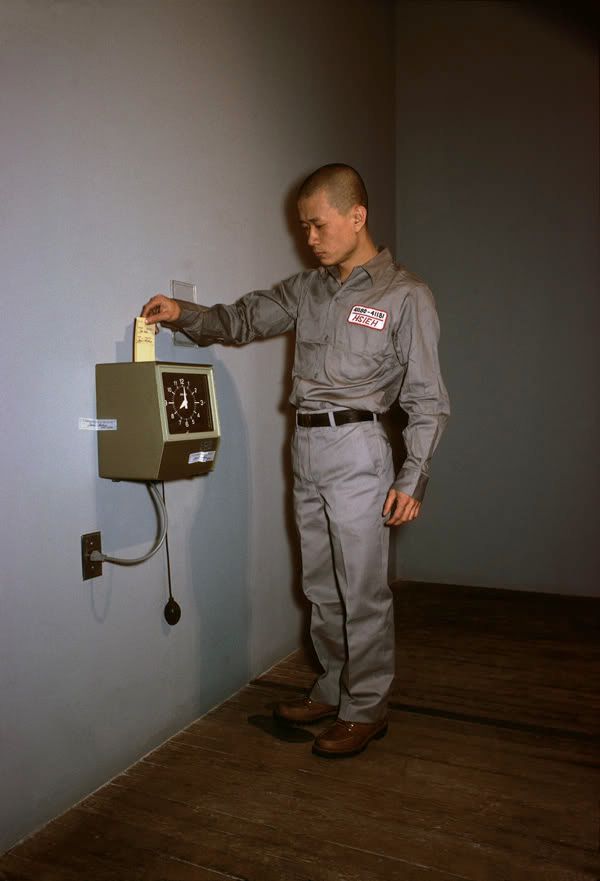 Click here to read TehChing Hsieh's bio