Tuesday, June 24th, 2008
This is the 3rd time I visited Columbus, OH. This time, I finally found time to shop the vintage stores and see the city.
Mad4mod is probably one of the best vintage shops in the country. The color-coordinated display and well-mannered sales assistants made me feel like I was walking onto a Pleasantville movie set. I ended up getting 3 skirts all in bold geometric pattern. With much inspiration, I cannot wait to wear them with a mixed print crispy high-waist big skirt and oxford shirt.
Katzinger's in German Village has whimsical interior and excellent   food. They should be voted Eco citizen of the year with their recycled signs in the store. Nowadays, I feel more and more guilty each time I polish my nail, use Lycra fabric, or take a cab somewhere with Milan. But, Katzinger'
s whimsical design and friendly tone do not make you feel being preached, but want to try harder to be green. After finishing the Sticky Bum (make sure you order it grilled) and my 2nd cup of coffee, I managed to throw the plates and cups into their designated trash cans. I was fulfilled.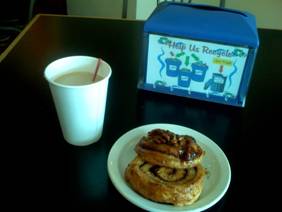 The well-signed, whimsical interior of Katzinger's.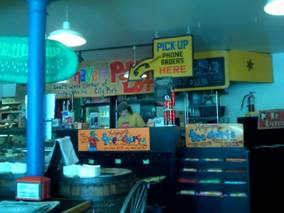 I had the most memorable Sticky Bum with coffee for breakfast at Katzinger's.