Tuesday, November 30th, 1999
We've been hard at work for weeks prepping the Fall 2010 Fashion Show. I read a statistic yesterday (tweeted by one of our dear followers on Twitter) that the average New York Fashion Week runway show takes 6 months to plan, 18 hours to prep and only 10-15 minutes on the actual runway. It seems like months and months of blood, sweat and tears go into these shows and it's over in the blink of an eye.
You'd think this would be off-putting fact to hear as we're in the midst of our prep, but it actually had the opposite effect. We've been model casting all week, which is alternately fun and draining. After awhile, the girls all start to blend together and you can't even remember who's who! There are after parties to plan, giftbags to brainstorm and execute, music to choose, models to cast and basically all the tiny details you don't even think of while you're at the shows. I'm fairly certain that 18 hours isn't nearly an accurate timeframe to estimate prep work.  But it's all worth it.
The fact of the matter is, it's not really over in 10-15 minutes. The truth is, you have 10-15 minutes to prove yourself to the fashion world. For that time, all eyes are on you and those impressions last an entire season. It's your moment to showcase the hard work you've put in for the last six months; all that's gone in to create a line you love.
In those 15 minutes, trends are born, styles are revamped and the history of fashion is written. After those 10-15 minutes, the gauntlet is thrown. If the fashion community loves your show, you have it made for the next six months. If they hate your show, you have six months to go at it again and prove them wrong next season.
By Stephanie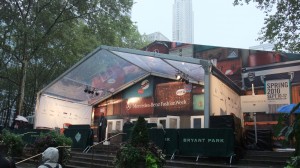 The Entrance at Bryant Park